[note: I'm gunna put some of my previous email updates on this bilgespot]
Hello all,
Sorry it's been a while (maybe that's a good thing) but here it is, the latest, and probably the most incoherent update of them all!! If you've got an email client worth its salt, you will see I have attached two photos in this latest update. That's right, two photos! They are completely free, and come with a 30 day money back guarantee. If you are unsatisfied with the photos, then please send the unused portion, complete with wrapper, to Gent, Belgium. They will be dealt with accordingly...
I can't believe people invested money in me
Moron the photos. The first, entitled "bookiessmall.jpg" is not a picture of 4 foot Belgian bookmakers. Oh no, it's far more serious than that. It was taken by my partner in crime, Chris Henry, at a race in Wondelgem in August. Or September. I forget which. Wondelgem is a suburb in Gent, and I for one find it very cool that they can close off minor arterial roads to hold a bike race around a leafy city suburb. The course is only 5.5 km and I didn't do very well, but apparently some people thought I would by the looks of the attached photo.
If you look *really* closely, you can see my name on the blackboard, third from the bottom. This (I believe) means that the local bookmaker has actually given me odds in this race, a very foolish idea. There are three numbers, and I hope I don't get this all wrong, but the first is my race number (23), the second is what place I'm expected to finish (16th, ho ho ho), and the third is how many people have bet on me to finish in that place (4). That's right, four people actually lost money by betting on me in that race, and probably any other race because I'll always finish somewhere between 20th and 30th. The funny thing is that you can actually bet on riders as the race progresses i.e. when the winning break forms on the third lap. But I think the money that you can win is divided by the number of people that have made that bet. Maybe.
Whatever happens, I'm sure the bookies clean up. I find it strange though, because Belgian kermesses are the most fixed things in the world. If you're ever going to bet on a kermesse, bet on the best local rider, because he'll nearly always win after buying off the other riders in the race.
Despite the obvious lack of purity in this system, it seems to work and it adds to the atmosphere of the race, which is one reason why Belgian races are so cool. The other is that people actually come to watch them for fun and the opportunity to drink a lot of the FINEST QUALITY Belgian beer. So not only are you racing for your own enjoyment, you're also providing other folk with part of their entertainment for the afternoon. So my twisted logic says I'm actually helping others and that's good enough for me.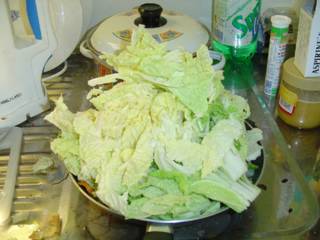 Clearly, I need a bigger frying pan.
And now we come to the second photo, which if you look carefully appears to be a lot of raw cabbage in an unsuitable frying pan. It appears to be this because in fact - that's *exactly* what it is!!
I bought this cabbage, see, and I thought it would be a handy garnish to a stir fry, see. Lacking het wok, I thought I could do it in my frying pan, and that was my fatal mistake... I prepared a few other things that I found in my fridge that resembled vegetables, and it was going ok: I had it all under control, simmering away...
Then I brought forth the cabbage, which I chopped in half, because you don't need a *whole* cabbage for a bloody stir fry! It seemed to be a lot, but I ploughed on until it was all chopped, coarsely mind you. It was when I started to pile it on top of the other semi-reduced veggies and stuff that I realised there was a problem. Clearly I had prepared the right amount of cabbage, but the frying pan was too small!!!
Oh no. What to do?
There was only one solution. Turn up the heat to max. and squish it all down with a lid. See, a cabbage is mostly water, so when you heat it to white hot, it loses its shape and somehow everything collapses into the frying pan black hole. This is fundamental proof that you can apply astronomy to cooking. Genius as he was, Stephen Hawking never made *that* connection. Ha!
The end result was a culinary masterpiece, and instead of eating it I decided to frame it, then eat it. But it wasn't quite bad enough to throw into the hazardous waste bins that double as garbage bins in my flat (mum can verify this).
Speaking of which, mum managed to visit me three(!) times during July which I was particularly impressed by. I hope she didn't get food poisoning while here. For some reason she insisted on doing the cooking...
Other news: The Vuelta a España (Tour of Spain) is over and that's a good thing. The third three week tour of the year is always tough. Now just the world championships plus two world cup races (all in the next couple of weeks) and that'll be it for the season and I can go home to Real Sun(tm). I'm outta here on October 30 or 31 so it'll be good to get back to Oz and catch up with (most of) youse for a bit. Will be back here in 2004 from late January methinks.
Finally (jeez this is already 1000 words), a big congrats to those of you who are getting married (YOU KNOW WHO YOU ARE!). Definitely looking forward to being there when that happens!
Omigod, somehow the spell chekcer didn't pick up anything. Must send.
cheers,
Jeff
p.s. Bruce Almighty was funnier than I thought it would be. That's a worry.