Well, I'm officially at Le Tour in Liege - in body at least. I got up at some heinous hour on Friday morning to catch the train and didn't miss it, but the accumulation of non-sleeping hours this week really took its toll. I hooked up with Monsieur Maloney and spent the rest of the day in the press room trying to locate my brain, missing press conferences and generally starving. Un jour sans, as they say.
The lovely smoke-free press room. *cough*
We finally got out of there around 9pm and had a nice meal containing frites and stuff at a local restauraaaaaaaant. Then back to our lovely hotel. We are staying at the "Hotel Metropole" opposite Liege-Guillemins station. It can best be described as a horrendously priced low joint. It reminds me of the inaccurately named "Hotel Adjacent Casino" where I stayed for the 2001 Tour Down Under (before Cyclingnews was persona grata). My room was conveniently located next to the lift shaft, ensuring my beauty sleep was kept to a healthy minimum.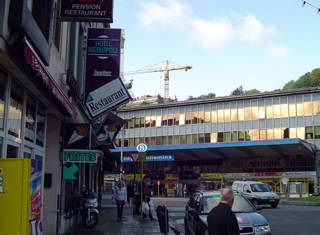 The Hotel Metropole in Liege. Classy.
Today is the prologue. Allez McGee!