It's late but we're nearing the summer solstice so it's only been dark for three hours or so. Hence, I conclude that I am bloody tired.
Today was Henk Ballet's grand fietstocht that started in Ouwegem (about 17 km from Gent, like everywhere else in Belgium) and went down to Lessines, along a bit of the parcours of Stage 4 of the Tour de France, then back via Ronse. Months of planning went into this and I am indeed impressed by Henk's knowledge of all the back roads between here and somewhere south of here.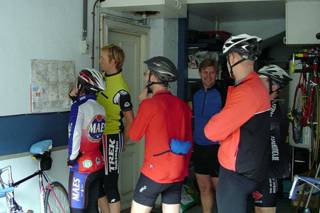 Henk (2nd L) explains the parcours
Unfortunately it was a bit wet, and the auspices were not in our favour today regarding the dreaded punctures. I guess we averaged less than one per rider, but when you have eight riders that's still a lot. Including my flat on the way to Ouwegem and one during the tour, we managed six all up. I think that's a record.
Puncture 2 in Horebeke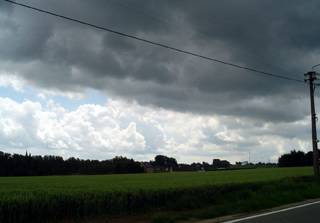 Looks like a spot of rain
Puncture 3 in Schorisse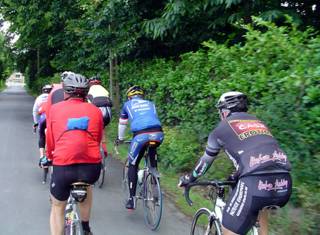 Cruisin' along. Where can I get a 'Casa Erotica' jersey?
As you can see I have uploaded some pics of the ride including a
banned
photo (below) from inside the Tour de France museum at the top of the hill at Frasnes-lez-Anvaing. This is a cafe that we pass every Sunday on the Berchem ride, but I had no idea that it was a museum. The TdF route goes the opposite way to the Berchem ride, and we stopped off at the cafe for a quick refresher before heading home.
To make a short story long, there's quite an interesting museum with lots of photos from Tours gone by, probably all of them in fact. A few bikes, lots of jerseys etc. But once I started snapping away the proprietor came up and was rather annoyed "Geen fotograferen!" If I could have been bothered, I would have expained that I'm a journalist and was going to do a nice little feature on the museum which would have given him plenty of free advertising. And he would have been ok with that I think. He was more worried about people taking photos of photos and then selling them.
Whatever. I may still write the feature anyway if I get the time. Maybe I'll just make it into a photo essay :-) Voila:
The Musee du Tour de France in Frasnes-lez-Anvaing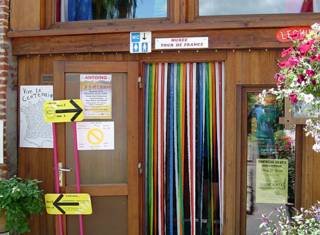 The entree to the Musee du Tour de France
Jerseys in the TdF musee. Banned photo!!
A few more punctures later, and we eventually got back to somewhere near Oudenaarde. Next year, it's MTB tyres all round we think.
Henk (R) can't believe this is the fifth puncture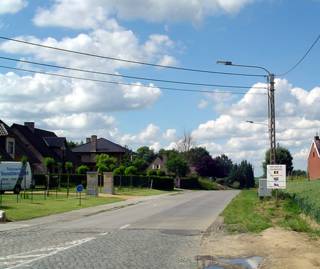 The way home...eindelijk!
Anyway it's new tyre time and I'm tyred out. Flew back home to Gent into the headwind because I wanted to catch up on the Tour de Suisse et all. It was a really wet finish today and Jeker put a few more seconds into Der Kaiser and dropped Totschnig, who won yesterday. So going into tomorrow's 25km time trial, Jeker has 41 seconds on Ullrich and 50 to Totschnig. I reckon Ullrich will still win.
As I wrote above, it's late(r) and I'm finally going to bed!