Although I tried to follow in the footsteps of
Petrarch
and climb Le Mont Ventoux from the Malaucene side, I met an impasse in the form of a closed road with several centimetres of snow on it. This surprised me, because even where I got to (Mont Serein, 1432m), it was still fairly warm and the sun was out, as usual. There was a snow plough sitting idle just before the barrier, but apparently the tops of the mountains aren't opened for a while yet.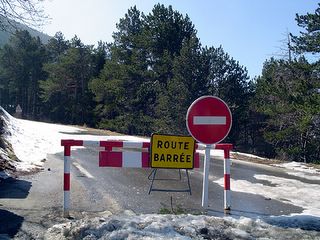 The Way is Shut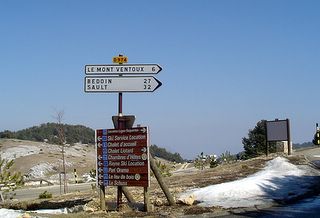 Well, this is as far as I got...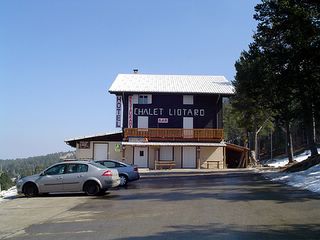 The Chalet Liotard(!) near Mont Serein, at 1430m
But I did try! I'd managed the 15.2 km from Malaucene in 57'00, which wasn't too bad, and had I kept going at that rate, I would have got to the top in about 1h23'00, or thereabouts. I looked up the results of the Dauphine Libéré time trial up Mont Ventoux in 2004 (which was run from the Bedoin side, which is a bit longer and about another 70m vertical) and my virtual time would have placed me 94th in a field of 93 riders. Iban Mayo smashed the record and did it in 56'00(!), and even allowing for an extra 4-5 kilos of bike, clothing and gear, I think I would have been eliminated by several minutes. Well, Freire was eliminated that day too, so maybe I could be World Champion instead. Luckily I'm not a pro :-) Or even a virtual one.
The
climb from Malaucene
is probably slightly easier than that from
Bedoin
because the flat spots are scattered at convenient intervals throughout the climb. You start off at 7% for a km, then it's flat for half a km, then another km at 7% before you hit a 9% bit. It's OK until you get to km 9.5 and face four kilometres at 10%. That's really, really nasty, and there's actually a km where it's 12%. I was ridiculously overgeared with a 42x23, and was doing 11-12 km/h with my heart rate at 180 for well over 20 minutes. If I'd brought the Flandria down, I would have had a 39x25, which would make that bit relatively bearable.
Nevertheless, I was still keen on getting to the top and was a bit disappointed by the Route Barrée sign. I felt like a Balrog at the bridge of Khazad-Dûm, being told by Gandalf, "You cannot pass!" Bugger. Next time, Gadget, next time. Got some pics, which can be viewed below for a small fee, donated to my Nigerian bank account.
The whole ride was pretty cool, anyway. We all three (Hedwig, Rich et moi) started off in Orange on a cold and misty morning, fairly well rugged up. For the first time this week, I needed arm and leg warmers and even a thermal body warmer. I hasten to add that once the sun came out, these were completely unnecessary, even near the top of Ventoux!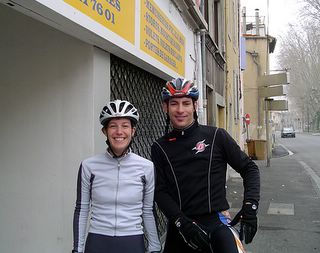 Before setting out: Hedwig and Rich in downtown Orange.
We deviated off our course a bit somewhere near Caromb after we missed a turnoff. Rich took us up this tiny road and, although we were still headed towards Malaucene, we went a fair way north. This meant that instead of staying on the flat and having a gentle climb up to Malaucene, we ended up going over the Col du Suzette, which is about 5 km long and took us up to 400m. It didn't bother me too much but I don't think Hedwig was quite expecting it after doing a total of 100 km on the bike this year. Still, she made it OK, even though we had a couple more small climbs into Malaucene.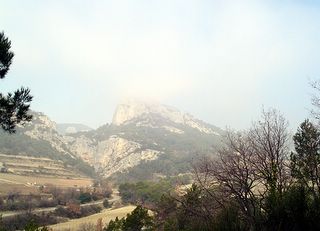 Halfway up the Col de Suzette, the sun came out. Rather fine, I must say.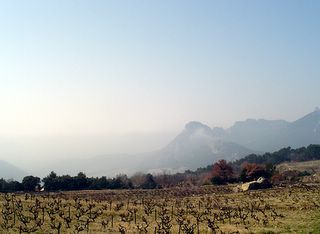 The top of the Suzette, looking back down the valley. Mmmm...
Looking down the other side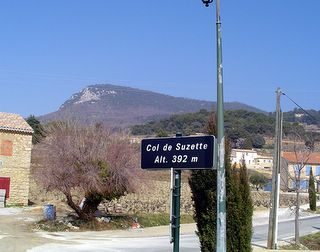 It actually went up a bit more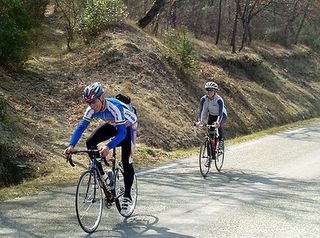 Rich attacks coming into Malaucene!
Hedwig is not impressed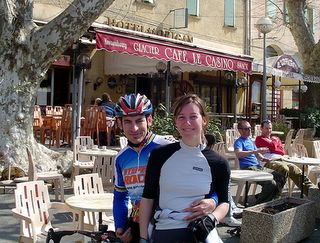 Rich and Hedwig outside the Cafe le Casino in Malaucene, where we parted ways...
We reached that point after 40 km and had un cafe in town, before parting. I dunno why, but they weren't too interested in doing Ventoux today. So I did it as planned, although I wanted to get to the top and descend the other side into Bedoin to make it a bit of a circuit. Instead I just had to turn around and go back down to Malaucene. Not a bad descent anyway, despite the fact that my front wheel is pitted and braking makes the whole front fork shudder. Time for a change, methinks.
I went back via Vaison-la-Romaine, Rasteau and Camaret like I did the other day, and quite enjoyed it. It's a nice area - so dry. Its climate is a bit like South Australia. I'm seriously considering moving here next year.