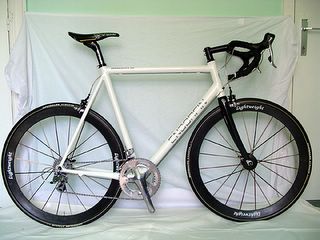 My latest pile of junk: the Endorfin Speed III.
I am
really
being spoiled this year. First with the Canyon F10, which was a great ride, apart from the saddle. So stiff and manoeuvrable! And now I've got a new rig, a Speed III from Endorfin. Unlike the Canyon, it's not a compact frame but it's built more like my GT. Err, in dimension only. It's aluminium, which surprised me, but with all the carbon bits on it it comes in at 6.95 kg! No excuse for being dropped on the hills now.
Lightweight wheels....arrrgghhl, drool, lust. AX Lightness carbon saddle, which is surprisingly comfy. Better than the SLR I had on the Canyon, which was like riding on rough granite.
It's almost too cruel to take it to a race. Jeez I'd better take it with me to the kleedkamers or it'll get nicked! And yes, I now have my racing licence with mum as my honorary begeleider. Unfortunately, on my scheduled Day Off next week (Tuesday), there are no races on. They're all on bloody Monday because it's yet another bloody public holiday. I hate public holidays, because I don't get them.
Back to ogling the bike...