After the Week that Was, there came the Weekend that Wasn't. It wasn't as bad as I expected it would be; neither was it particularly good. If Josh is correct - and I'm sure he is - then the last Week that Was was at Noosa in Feb. '98.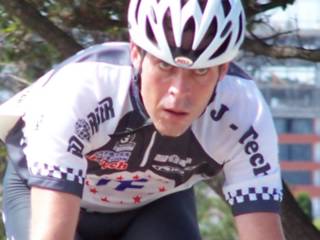 The 'why am I here?' look on Saturday
© Tony Horneman
On Saturday I lined up at Heffron for the usual 18 lapper, fully expecting to be hammered by Grafton winner Peter "The Machine" McDonald. He did not disappoint, attacking on the first lap and not ceasing until in the end, he had whittled the bunch of 13 down to three. He sprints as well as I do, so he got third.
In the early stages, when we were seven, I made the mistake of sitting up after doing my turn and trying to go to the back of the group. There were two guys who refused to come past me and we were all dropped simultaneously. Rule number one: Never let Peter McDonald get a gap.
So I spent the next 14 laps chasing with another guy, slowly losing ground to The Machine's group of four, which eventually became three. I guess we kept putting time into the rest of A grade so it wasn't all bad. I actually ended up fourth, where I probably still would have finished had I been with the front group. But it's always nice to be in the lead break rather than chasing. It was a good way to work off the excesses of the previous week too, as the photo above indicates.
Sunday's fixture was a bit (but not much) different - a 47km crit up at Beaumont Rd, Mt. Kuring-gai. It's about 40km to get there but the start was at 8:15am, so I didn't have to get up at a completely stupid hour. The course is a hotdog circuit of 3.2 km, with a bit of a hill in the middle and U-turns at each end.
I was impressed with the turnout: we must have had well over 100 riders in four grades, including a good 25-30 in A grade. It was a fairly attacking race too, which was good. It was also extremely easy to sit on, because apart from the two corners there were no other technical difficulties and no wind. I managed to inveigle my way into a few breakaways at various stages, all of which were pulled back.
I thought I'd have a go on the last lap 'cos I knew that a top 3 in a bunch sprint was somewhat improbable. So I went on the downhill just before the last corner with about 2km left and got a bit of a gap. I made it to the top of the hill coming back and attempted to wind up for a last ditch kick for the line, but there was not a lot left. A South African kiddie - Raynold Smith, who rides for Van Hemert Groep and did OK in Belgium this year - flew past me on the run into the line and won easily. Another guy chased him and I should have tried to get his wheel but mentally I had given up the ghost. He was just caught by Nash Kent and Laurie Vignes for second and third. It was rather fun.
I rode home via Bobbin Head with most of the Bicisport peloton and that was also rather fun. Spent most of the rest of the day sleeping and buggering up Bach's Prelude No. 2 in C minor. I've nearly cracked it though...
More galvanising this week, starting with Janelle's very sensibly organised Monday night birthday bash. Must try to get out for a ride.